Dive Into Art: Cozumel, June 2020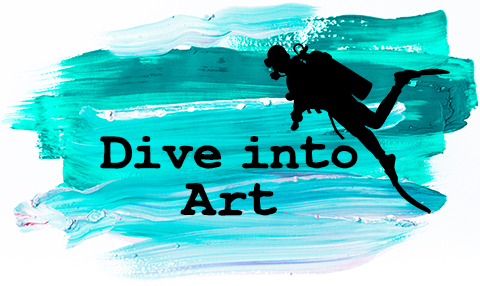 Join Dina Wakley and Phoenix Scuba on the beautiful island of Cozumel, Mexico, to Dive Into Art!

June 10-17, 2020 (Full…email me if you want to be on the waiting list)
June 17-24, 2020 (Available)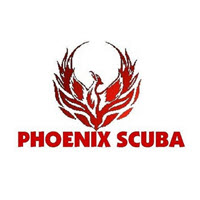 Cozumel is one of the world's top diving destinations. Cozumel's warm, tropical climate, lush jungle surroundings, blue skies, and turquoise seas are sure to inspire and relax you.
What better place to enjoy the ocean's majesty, and create island-inspired art?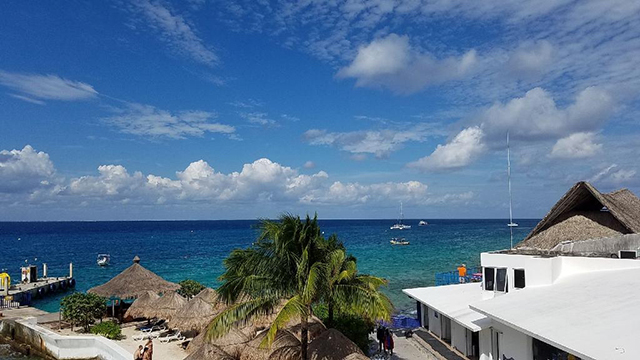 Dive Into Art is a one-of-a-kind art and scuba retreat.
What the retreat includes:
Art:
Four mornings of island-inspired art with Dina Wakley.
All supplies, except for a small tool list (scissors, rag for cleaning, etc). After final payment, Dina will send you your art supplies for you to bring with you.
Tote bag and other exclusive goodies.
Diving:
Open Water certification ($359 value), included for FREE! Yes, you heard that right. Dina Wakley and Kelly and Steve Fischer of Phoenix Scuba will get you certified in the gorgeous Cozumel seas. Before you arrive in Cozumel, you will do the online reading and quizzes. In Cozumel, we'll answer questions and do your training dives. Then you'll be a certified diver! Dina, Kelly, and Steve will be there to help you every step of the way. Certification never expires. This is an incredible value.
5 days of 2 boat dives and unlimited shore diving are included. We'll be diving with the wonderful Cozumel Marine World dive shop. We'll laugh, eat delicious fruit, bask in the sun, and see amazing marine life like moray eels, splendid toadfish, lobsters, octopus, crab, giant eagle rays, turtles, and more!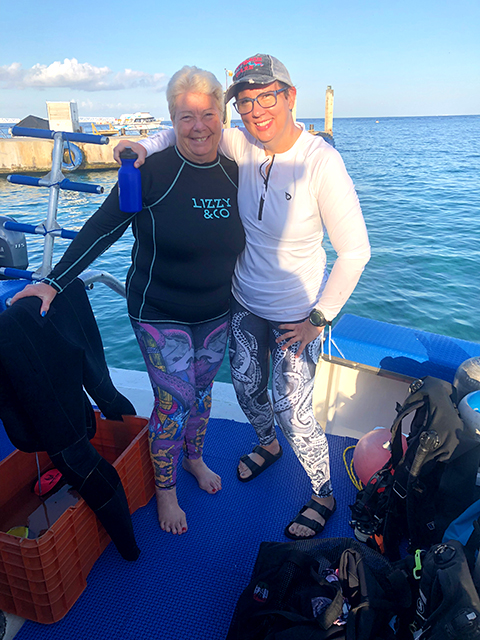 Accommodations:
All-inclusive 7 nights stay (superior room) at Casa Del Mar hotel and dive resort.
Daily breakfast, lunch, dinner & drinks (alcohol & non-alcohol) included.
What is not included:
Airfare to Cozumel, Mexico.
Tips/gratuities for staff and dive crew.
Marine park fee (approximately $15 US).
Rental gear.
We're Going to Dive?
Diving will change your life in a the best way possible. It's not natural for us to breathe under the water, so when we can (thanks to our scuba equipment), we are in a completely different world. The colors, the sounds, the weightlessness, the marine life…you will never be the same. Diving is proven to help with depression, PTSD, stress, and a myriad of other problems. All you have to do is be willing to try, and we will help calm your fears be with you through every step. I wear bright pink fins, so you'll always be able to find me underwater, too!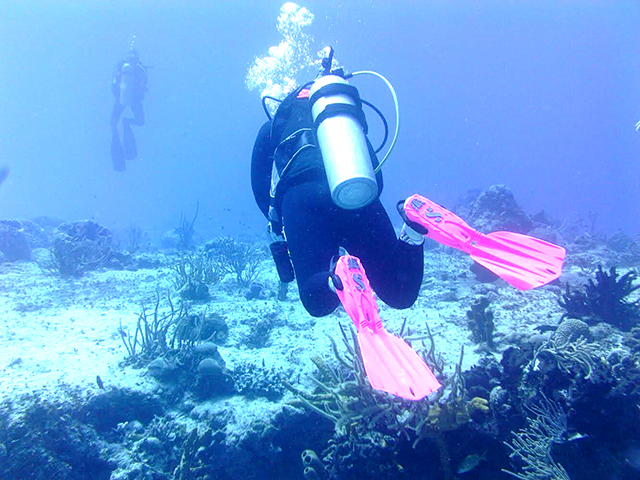 Common questions:
Q: I'm claustrophobic, can I dive? A: Why not try? I find that the underwater world is vast and not limiting, but see how you feel when you try it.
Q: I'm not a strong swimmer, can I dive? A: Can you tread water? Can you kick? You can learn to dive.
Q: Will we see a shark? A: I hope so! The sharks will leave us alone (trust me), and if we see one, we consider it a stroke of great diving luck.
Q: But I'm scared! A: You will be taught by two of the best instructors in the industry, Kelly and Steve Fischer. They have experienced and heard every fear, and they know how to help you overcome them. I'll be teaching you, too, and cheering you on with every accomplishment. All you have to do is try.
But I reallllly don't want to dive.
That's ok. Cozumel is a little slice of paradise, and when we're not making art, you can
Snorkel
Shop
Rent a jeep and explore the island
Visit the ruins
Relax by the pool or beach
Itinerary (subject to change)
Date
Morning
Afternoon
Evening

June 10 Session 1


June 17 Session 2

 
Arrive, settle in at Casa Del Mar.
Meet for a group dinner in the
restaurant at
7 p.m.

June 11 Session 1


June 18 Session 2

New diver
certification
with Dina, Kelly, and Steve.
If you're not
diving, this is a
free day.
Explore or relax at the beach or
pool.
Two boat dives.
 

June 12 Session 1


June 19 Session 2

Art with Dina,
9 am to noon.
Two boat dives.
Dinner

June 13 Session 1


June 20 Session 2

Art with Dina,
9 am to noon.
Two boat dives.
Dinner and
collaborative art project

June 14 Session 1


June 21 Session 2

Art with Dina,
9 am to noon.
Two boat dives.
Dinner and
optional night
dive (additional cost)

June 15 Session 1


June 22 Session 2

Art with Dina,
9 am to noon.
Two boat dives.
Dinner and
Show & Tell

June 16 Session 1


June 23 Session 2

 
Group field trip to downtown
Cozumel
Dinner

June 17 Session 1


June 24 Session 2

Pack and leave
for home.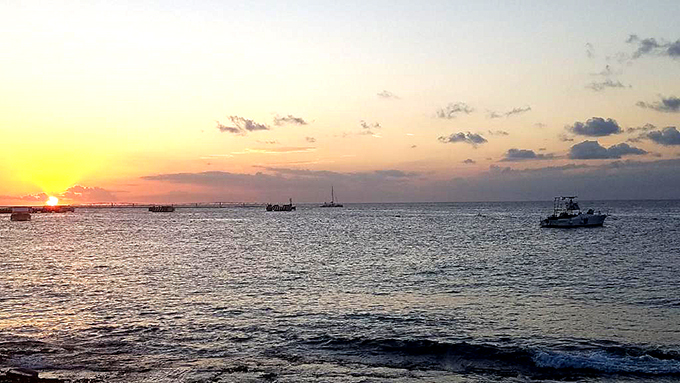 The Nitty Gritty
Diver Price, with art class: $1600 USD (double occupancy)
Non-Diver Price, with art class: $1150 USD (double occupancy)
Diver price, no art class: $1350 USD (double occupancy)
Deposit of $500 due to secure your spot. Deposit non-refundable after March 10, 2020. Balance due by April 10th, 2020.
To register, CLICK HERE to go to my online store.
You have to create an account on my website, if you haven't already. Be sure you are logged in. Then put the deposit in your cart and go through the checkout process.
Questions? Concerns? Email dina@dinawakley.com