About Me
 About Me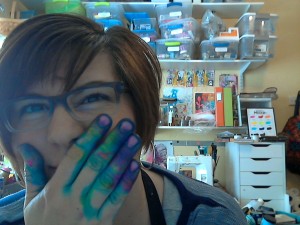 I am a mixed-media artist and teacher. I love everything about art: creating it, thinking about it, looking at it, and teaching it.  I teach both in-person and online workshops. I have been scrapbooking since 1995, stamping since 1996, and art journaling since 2004. I have kept a personal journal since I was nine years old. I believe in writing yourself down, expressing yourself, and making your mark on the world.
As a Ranger Signature Designer, I design a line of mixed-media art supplies that includes acrylic paints, mediums, brushes, rubber stamps, stencils, and more. Look for the Dina Wakley Media Line by Ranger at a store near you.
My two books Art Journal Freedom and Art Journal Courage are available now. You can also buy DVDs and digital downloads here: Click Here to Go to the North Light Shop.
How Do I Find Out About Your Teaching Schedule and New Online Classes?
I post regularly on social media. Find me on Instagram, Facebook, and Twitter. I also keep my teaching schedule current here. Also check my blog regularly for announcements and updates.
Will You Come and Teach at My Store/Event?
Yes! I love to teach. Just email my assistant, Krista (krista@dinawakley.com) and we can work out contract, details, etc.
Do you have a question for me? Just drop me a line.