FAQ
 How Do I Find Out About Your New Online Classes?
Join my newsletter…I'll keep you updated on new offerings, and give you some tips & tricks.
What is the magic pencil?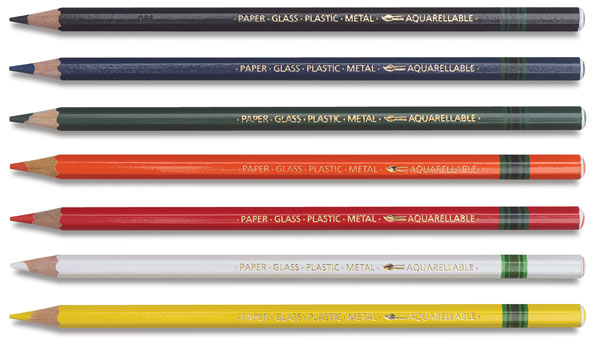 The magic pencil is the Stabilo All pencil, sometimes called Stabilo Marks All. I started calling it the "magic pencil" because it makes you look better than you are…everything you draw with it turns to magic, even simple circles. The pencil isn't really a sketching pencil. It is made to draw on slick surfaces, like plastic and glass. Acrylic paint is plastic, so the pencil makes a wonderful, dark line on it. You can dissolve the line with water to make it paint-like, or to remove it completely. It comes in several colors, but I mostly use black and white.
The Stabilo Woody pencils are the same formulation, but they are thicker and come in more colors.
What pen do you use?
Ah, pens. It's so hard to find the perfect pen, and every art journaler has his or her own preference. Here are the pens I use the most:
Fudeball 1.5. My current obsession. A thick roller-ball, it writes over dried paint (and I haven't had one clog yet).
Water-based Poster-Paint Sharpie…also known as the "shaky" pen." I generally buy the extra-fine point. You have to shake this pen well and "burp" it to keep the ink flowing (burping means pressing the nib into the pen). I love this pen because it will write on almost anything, and the paint inside the pen is very opaque and dark. Note that the paint inside the white pen tends to separate, so you have to shake it a good long time to get a nice, opaque white. Disadvantages of this pen: seem to run out quickly, nibs can be problematic, sometimes can spit onto your work.
Faber-Castell Pitt Pens. Super dark, great pen.
Regular Sharpies. I actually prefer the "Extra Fine Point" over the "Ultra Fine Point." The line is stronger and the tip lasts longer. I buy the Extra Fines at Office Max (sold only in boxes of 12).
What Journal Do You Use?
Ah, journals. Let me tell you about my "journal journey." When I first started art journaling, I would buy wire-bound scrapbooks at JoAnn's. They cost about $10 and were filled with a heavy-weight cardstock that could stand up to all the painting & inking. Then…suddenly…they were discontinued and impossible to find.
Then I got hooked on watercolor journals by Global Art. The pages have cool deckle edges and a nice texture. I've filled quite a few. The disadvantage to these journals is they're poorly made. The signatures fall apart because they're sewn in with only two or three stitches. And, the paper is so textured that it is difficult to stamp on it and blot stencils on it. Still, it was the best option I had found so far…and I do still occasionally work in them because the deckle edge is so lovely (I actually tear the paper out and work on it loose, then rebind it into a handmade journal of my own).
Then, my gorgeous and fabulous friend Dyan Reaveley came out with her Creative Journal by Ranger. She sent me one to work in. A few weeks later she asked, "Tell me honestly, what you think about the journal." I said, "Honestly? I need you to send me two more."
Seriously. You need one. Or two. Or three. I love, love, love this journal. 
Where to buy it? Ask for it at your local store!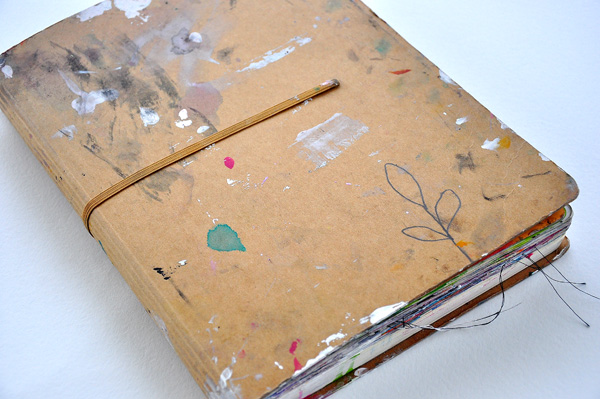 I love it because:
It's a great value. So affordable.
Paper is a nice weight and stands up to my mixed-media layers.
The paper is great to stamp on.
It has SEWN signatures that lay flat.
It has a pocket in which you can keep stencils and collagey goodness.
It's just an utter pleasure to work in.
Dyan gave me a vintage ledger (what a gal, what a gift, eh?). You'll see me working in that quite a bit, too. You can find vintage ledgers at antiques stores, estate sales, and ebay.
Will You Come and Teach at My Store/Event?
Yes! I love to teach. Just email me (dinawakley(@)q.com) and we can work out contract, details, etc.
What is Your Favorite Spray Ink?
Ah, I love spray ink. It's my bread and butter. I can't create without it.
Dylusions Ink Sprays by Ranger are my absolute favorite inks. They are densely pigmented and the colors are bright and fabulous. They're reactive to water, which means you can do all kinds of awesome techniques with them.
Adirondack Color Wash by Ranger are great, too. They have an earthy palette. Now that the Dylusions are out, though, I find I rarely use these because the Dylusions are fit my personal color story better. This ink was designed as a fabric dye, so it is very pigmented. It is also reactive with water and permanent when heat set.
Maya Mist sprays have nice coverage over raw chipboard. They are not water reactive.
Do you have a question for me? Just drop me a line.